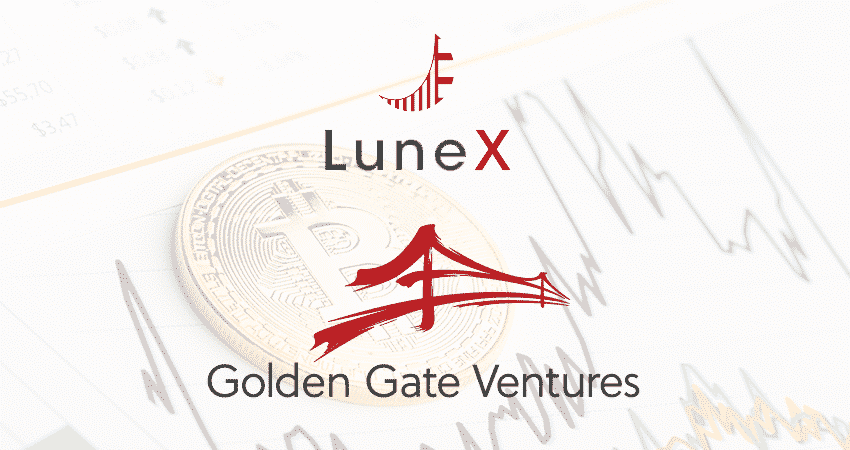 LuneX a Crypto Based VC Fund Driven by Golden Gate Ventures in South East Asia
The blockchain technology adds value through a variety of mechanism in place. It has become omnipresent globally with venture capital firms have started recognizing the enormous benefits of the new age technology. Singapore based Golden Gate Ventures which is one of the established venture capital funds based in Southeast Asia drives a dedicated global blockchain investments funds naming LuneX Ventures. The fund has partnered with Golden Gate Venture headed by Kenrick Drijkoningen, the founding partner of LuneX. On the technicality front, LuneX Ventures will be created on Golden Gate's strengths that support growth companies. However, LuneX will actively concentrate on blockchain technology and cryptocurrency space.
The opportunity in this space is so tremendous as stated by Drijkoningen. He further said that "We view blockchain as a foundational technology, on a par with or possibly exceeding the Internet in disruptive potential. Right now valuations have come down to more reasonable levels and the industry is moving from pioneers to early adopters, which is a great time to start investing."
Needless to that that the Initial Coin Offerings globally have raised US$9 billion in the first half of 2018 which is three times as compared to $6 billion as raised in 2017 alone. Golden Gate Ventures is a renowned player to catch with the opportunity in emerging market. The company's portfolio companies have raised more than US$35 million through ICOs.  When it comes to have crypto friendly country, Singapore is one of the prime locations due to the crypto friendly policies in place. The supportive government in the country has attracted the crypto-based talent and numerous blockchain projects. With this Monetary Authority of Singapore has stated that the country will not help regulate pure utility tokens. The fund, LuneX Ventures is one of the dedicated crypto-based and blockchain based funds promoted by Venture Capital. The main focus of the fund is to park capital with companies that create the crypto-based ecosystem. LuneX has acquired to hold the long-term strategic view in order to grow and scale up its business models.
Golden Gate Venture's dedicated fund – LuneX will not only crypto-based fund, however, it will entice the interest of entrepreneurs that would like to build blockchain technology. The fund will provide them with the deep insight and industry access on the blockchain space. Thereby it adds value to the portfolio companies. As said by Kenrick Drijkoningen, the company's head:  "Traditional investors currently struggle to access this new asset class: there are legal, custodian, banking, tax and other operating obstacles to overcome. LuneX Ventures has been built from the ground up to address all these. We have gone the extra mile to make sure the fund is fully compliant while providing easy access to accredited investors. Our mandate allows us to invest in tokens of promising startups. For us, it's important that our interests are aligned with those of founders. In the end, this is how we all benefit."

LuneX is exploring to fund all those companies that would like to scale up the industry to the next level. It will highly favor companies with scalable infrastructure with realistic business models in place that may provide solutions to resolve certain complex issues emanating from security and custody, institutional services, etc.  Besides Drijkoningen, LuneX Ventures has hire industry blockchain expert and mentor person Tushal Aggarwal who drives one of the renowned blockchain podcast called 'Decrypt Asia'. He brings on board relevant experienced and deep insight that works as a mentor to young fintech companies.
Let's not forget that the blockchain technology is the new age technology that will change the dynamics of the way businesses do globally. It always mattes that how you utilize the technology that drives value in business!!