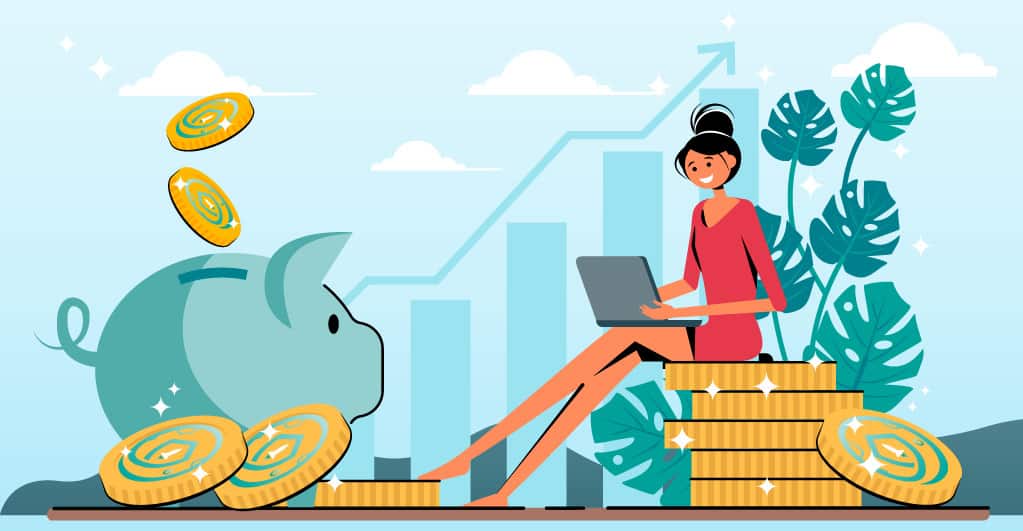 Why Should You Invest in SafeMoon?
Cryptocurrency is a digital currency that works on a decentralized network which means a central authority or government does not regulate it. It is a digital payment method with a peer-to-peer system that enables anyone to send & receive payments from anywhere around the globe.
What Is SafeMoon (SAFEMOON)?
SafeMoon is a cryptocurrency token launched on the Binance Smart chain blockchain in March 2021. SafeMoon is a Defi token, which means it is decentralized from the financial sector. It is well known for its high volatility, transaction fees, and celebrity hype from social media, including YouTuber Jake Paul and rapper Lil Yachty. According to CoinGecko, It is currently ranked 195th in the largest of all cryptocurrencies by market capitalization.
Key Points About Why Should You Invest in SafeMoon (SAFEMOON)
Inexpensive: New investors who are unsure of it can invest small amounts. And there are chances that the price of SafeMoon can hit the moon in the future.
Branding: The most significant aspect is the branding of SafeMoon. A cult-like following on social media has helped the cryptocurrency companies to build their brands to stand out in the crowd. SafeMoon has been trending on social media since the beginning.
Hyped by high-profile influencers: Endorsements from high-profile influencers have helped SafeMoon gain immense popularity.
Source of passive income: SafeMoon can be a source of passive income for its holders as they can earn a decent amount through its incentives. SafeMoon is known for its high transaction fees of 10%, 5% of which goes to SafeMoon holders, and the rest 5% is added to PancakeSwap's liquidity pool. So, if one invests for long-term holding, they can earn through these incentives.
Token burn feature: Token burning is a process that involves the permanent removal of tokens from circulation. SafeMoon engages in manual burning rather than continuous burning. It allows it to be tracked publically, increasing transparency. This process can be profitable for long-term investors.
Benefits of Buying SafeMoon
The security mechanism of SafeMoon network: Before issuing on DxSale, the developer burned all the tokens in his wallet for a fair issuance. And being based on the mathematical & scientific algorithm of blockchain, it is unlikely that it will get hacked.
Liquidity: 5% of the 10% transaction fee gets added to the liquidity pool. Generally, new projects face the problem of insufficient liquidity. But SafeMoon has the competitive edge regarding liquidity.
Mining: 5% of every 10% transaction fee gets distributed to all the token holders. Since 40% of tokens were burned initially, 5% of 40%, i.e., 2% of the transaction fee, was burned. The remaining 3% was distributed as dividends to the holders.
Now See, What Experts Say on SafeMoon Price Growth
As per experts' predictions, the price growth of SafeMoon is positive for the future years. It can reach its all-time high & go higher. The targets are high but not impossible to achieve for this token. The coin started at $0.001658 on 16th December 2021. It reached its all-time high of $0.003258 on 4th January 2022, after which it gradually started losing its momentum. As of 3rd February 2022, it was trading around $0.00148. Based on algorithm prediction, Wallet investors estimated a rise to $0.00719 by March 2022, $0.00254 in January 2023, 0.00335 in January 2024, and $0.00429 by January 2025. As per the SafeMoon prediction, it is expected to grow SafeMoon's price shortly.
DigitalCoin Price predicted the price of SafeMoon to rise to $0.00220207364 in February 2022, $0.00244890106 in 2023, $0.00257019425 in January 2024, $0.00306351617 in January 2025, and $0.00616273838 in January 2028. As per GOV Capital, SafeMoon might trade around $0.0002553 by 2025. SafeMoon could reach the milestone of $1 by the end of 2030 as per Global Coverage.
Future of SafeMoon
The team of SafeMoon regularly discloses their plans through their website and live video streams. Some of their projects are:
Launching a SafeMoon wallet, app & a video game,
Integrating SafeMoon with the African market,
Creating a SafeMoon exchange
The digital token has upgraded itself to V2. After the upgrade, the coin recorded a gain of 6.9%. This upgrade works in making the token a seamless two-click consolidation process.
Conclusion
SafeMoon seems like a promising cryptocurrency. It is designed to encourage people to hold it for the long term. The company's website talks about their plans & charity projects. There are chances of its price skyrocketing. But along with it, there is a potential risk of the coin being a scam coin. The primary factor that can be considered is that it is not listed in any popular exchanges. The currency has mostly worked well due to its fantastic marketing. So, it would be advisable to invest as much as one is ready to lose. If the coin turns out to be trustworthy, one can generate huge profits, and if it turns out to be a pump and dump coin, at least they will not lose a tremendous amount of money.