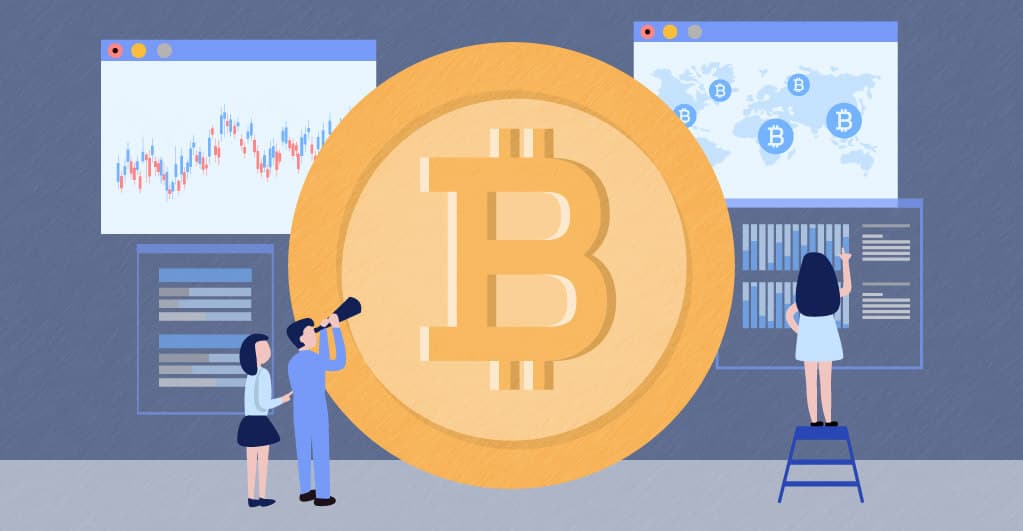 What Are the Factors That Influence Bitcoin's Price?
Bitcoin has successfully integrated into the mainstream finding a broad spectrum of applications for everything from online transactions to e-commerce and gambling. With the large-scale adoption of Bitcoin, an increasing number of individuals are using crypto for speculative investments or online transactions. When Bitcoin was developed in 2009, its value was absolutely nothing; but, a decade later, the value has increased exponentially. What is the reason behind this gradual increase in value? And, how would it influence Bitcoin traders and investors? Unlike traditional currencies, bitcoin is not issued by a central bank or backed by a government; therefore, the monetary policy, inflation rates, and economic growth measurements that typically influence the value of currency do not apply to bitcoin. Bitcoin has also experienced a severe price drop as well. For instance; Bitcoin was valued at $1 in 2011 and it reached a new high at $1242 in 2013. However, the value dropped to $340 the next year.
Why Is Bitcoin Booming?
Over the years, many large institutions have taken up the mantle of advocating bitcoins. As a matter of fact, these institutions have also adopted the cryptocurrency, paving the way for building more trust in the general public. Moreover, many people today are aware of Bitcoin's underlying technology, which is the blockchain network. Blockchain technology brings in security, safety, and much-needed transparency.
Another recent advancement was the inclusion of Bitcoin as a mode of payment on PayPal, one of the largest payment gateways in the world. In fact, JP Morgan recently declared that Bitcoin is a solid competition for gold.
Why Are Bitcoin Prices Increasing?
Many financial experts believe that the value of Bitcoin will further increase by the end of 2021. Bitcoin's prices are increasing with a rising demand from institutional buyers, many of them eyeing bitcoin as a hedge against inflation. Investing company, Grayscale, and a mobile payments service, CashApp were reported to have bought 85,000 Bitcoin, worth $695 million. The U.S. dollar's decline in foreign exchange markets could also be linked to Bitcoin's meteoric rise in 2021 because the cryptocurrency's price is mostly denominated in U.S. dollars.
Why Is Bitcoin's Price at an All-time High?
One of the reasons for the surge in 2021 could be attributed to PayPal making it easy to both own and spend bitcoins. Also, Bitcoin is being compared to gold. Though, Bitcoin is yet to grow in value as there are trillion dollars stored in gold while the Bitcoin network stores only $350 billion bitcoins.
Bitcoin Mike Novogratz believes that Bitcoin's price would reach $65,000 while S2S or Stock-to-Flow, predicts the price will reach $100,000 by the end of 2021. Another Bitcoin Analyst, Mike McGlone believes Bitcoin's price would reach $170000 by 2022.
Factors That Influence Bitcoin Price or Value
Now, let's consider the factors that influence Bitcoin's price:
Experts compare the supply of bitcoins with that of gold where both need to be mined to provide new supplies. And, there is a limit to the number of bitcoins that could be mined considering that 80% are already in circulation. Thus, with only 20% of bitcoins remaining to be mined, the scale will naturally dip towards demand. When the supply is limited, the demand rises.
Global Adoption of Bitcoin
Bitcoin has already paved its way into the mainstream. In fact, there are many users actively using the cryptocurrency to buy goods and services online. With many individuals becoming aware of the crypto and its potential, several retail businesses are including bitcoins as a suitable option for transactions.
Bitcoin runs on open-source decentralized blockchain technology. This provides user anonymity, which is one of the reasons Bitcoin is popular. While this may be true, with more governments accepting bitcoins, new regulations are being introduced to make the currency as reliable as traditional currencies. Financial products like exchange-traded funds (ETFs), and futures, use bitcoin as an underlying asset. This can impact prices in two ways.
It provides bitcoin access to investors who cannot afford to purchase an actual bitcoin, and as a result increasing demand.
Price volatility could be reduced by allowing institutional investors who believe bitcoin futures are overvalued or undervalued, to use their substantial resources to make bets that bitcoin's price will move in the opposite direction.
New bitcoins are rewarded to miners for confirming and validating bitcoin transactions. Miners process blocks of transactions, new Bitcoin is created and introduced to the market. However, many people don't understand that Halving is designed to slow over time. This can then lead to scenarios in which the demand for BTC rises faster than the supply. In that case, the price can be driven up. Bitcoin's mining reward halving mechanism further proves its scarcity and merit as a store-of-value asset.
Final Thoughts
Bitcoin is a highly volatile cryptocurrency, which has been through ups and downs where its pricing is concerned. Needless to say, Bitcoin analysts, financial experts, and even economists believe that the price of Bitcoin will certainly rise in 2021. With Bitcoin smashing through its all-time-high and having more infrastructure and institutional investment than ever, it doesn't seem to be going anywhere. You can invest in Bitcoin before it goes at high prices. If you are aiming for profit from Bitcoin trading then Immediate Edge software is perfect for you. Check Immediate Edge Reviews or visit its official website to get more details about the platform.