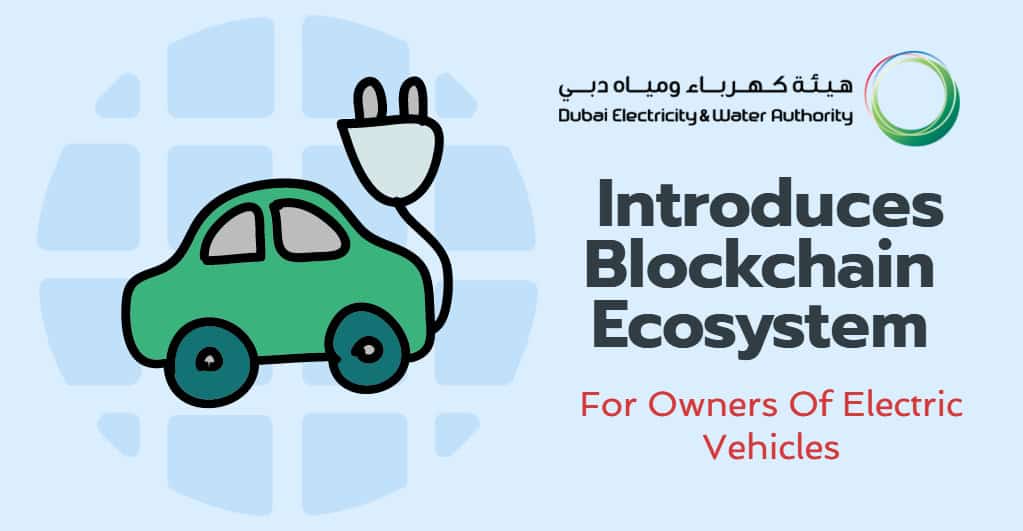 DEWA Sets Up Blockchain Ecosystem for Electric Vehicles
The blockchain ecosystem has gained momentum across the globe to achieve safe and effective transactions. In the UAE, the transportation sector will soon experience a significant shift with the introduction of the blockchain ecosystem for electric vehicles.
The Dubai Electricity and Water Authority (DEWA) introduces a blockchain ecosystem for the owners of electric vehicles for UAE residents. This will allow the vehicle owners to get benefits in billing, charging, EV Green Charger registration on a secured blockchain ecosystem. This process will be fast, safe, and more efficient transaction management as compared to other traditional approaches. Additionally, it will save time and effort involved for both the supplier and consumer.
In the UAE, His Highness Sheikh Mohammed bin Rashid Al Maktoum, ruler of Dubai and Prime minister of the UAE, is planning to implement the Emirates Blockchain Strategy 2021. This strategy will help the Dubai government to become the world's first government to conduct essential transactions to the blockchain. This will help transform 50% of federal government transactions to blockchain while improving the government performance by the end of 2021, said Saeed Mohammed Al Tayer, MD, and CEO of DEWA.
Not only blockchain growth, but this initiative will also support Dubai Carbon Abatement Strategy 2021, reducing the carbon emissions from the transportation sector. The Dubai Electricity and Water Authority, DEWA, is focused on promoting the use of more electric vehicles under the EV Green Charger initiative. It has done collaborations with multiple organizations to build a consolidated EV charging blockchain network, connecting all the private and public partners like Roads and Transport Authority of Dubai, Smart Dubai, etc.
In Dubai, DEWA facilitates over 240 EV stations across multiple locations. The company also provides free of cost charging until 31 December 2021, only for non-commercial EV owners. This scheme is only applicable to the public charging stations of DEWA, excluding the commercial vehicles registered under government, private, and semi-government organizations. They are being charged a tariff of 29 fils/kilowatt-hour.
HE Saeed Mohammed AI Tayer, MD, and CEO of DEWA, said that they adopt the latest and advanced disruptive and revolutionary technologies that will bring a sustainable future with green solutions. This consolidates Dubai as green and innovative economy. From blockchain technology to environment-friendly vehicles, DEWA is progressively contributing its part.