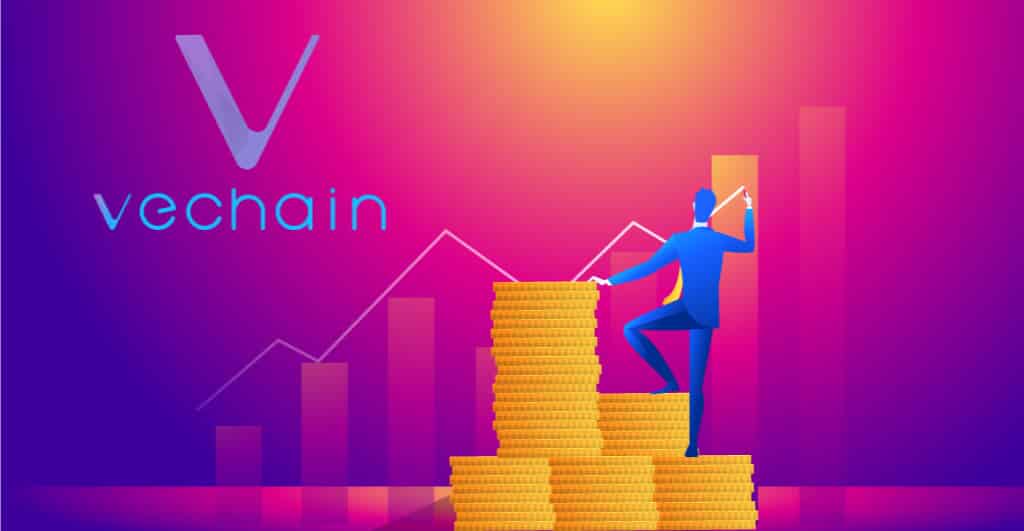 What is VeChain cryptocurrency? Is Investing in VET Profitable?
VeChain uses blockchain technology to manage, share, and collect product information with retailers, consumers, and vendors safe and authentic. The technology is basically designed for companies dealing in food/drug, agriculture, logistics, luxury goods, and governments.
VeChain facilitates a transparent flow of information, and many companies have adopted it in just two years. It can be used for various purposes like tracking the item in the supply chain and ensuring the goods' authenticity.
VeChain Token: VET is the cryptocurrency on which you can invest. It adds value to the VeChain blockchain. The token transfers the value and manages the smart contracts. Through VeChain tokens, users pay for the transactions happening on dApps on the VeChain blockchain.
VeChainThor Energy (VTHO) – VTHO is another token used in the VeChain system which works as gas to the smart contract. Developers only use these tokens to cover the execution cost of the contract.
How to invest in VeChain (VET)?
You can buy VeChain from different platforms. One of the best ways to buy VeChain is through Binance, which is the world's largest crypto exchange. Using Binance and buying VeChain is easy, and apart from that, you can buy a variety of cryptocurrencies from the platform.
As there are no VET/FIAT pairs available, you first need to buy Bitcoin. Completing registration on Binance takes only a few minutes. Once your details are verified, you will need to link the payment mode to your account through debit/credit card or directly by adding bank account details. With that, you can start buying Bitcoin. Once you have Bitcoins, you can select the VET/BTC pair and trade on as many VET tokens as you want.
Once you have purchased a VET, you will need to store them securely. There are many ways to hold VET. However, it is recommended for perfect security to use a hardware wallet as they keep your tokens in cold storage, which significantly reduces the risk of hacking and theft.
Can you make a profit by VeChain Staking?
You can earn passive income by staking VeChain. The staking model of VeChain includes two concepts:
The first concept is that anyone can receive VTHO by staking VET tokens in a compatible wallet.
The second concept is through VeChain nodes. There are nodes like economic nodes, authority master nodes, and economic x-nodes. One who holds such nodes receives extra rewards and can get involved in the governance model of VeChain.
So, by staking VET, you can get VTHO tokens, which are used to pay for gas that is a fuel to run the network. Partly it is also paid to authority nodes as a reward to keep the network running.
You can stake VET in VeChain mobile wallet (iOS+Android), ledger hardware wallet, Atomic Wallet, Exodus wallet, and via a cryptocurrency exchange. You can use any mode given above to stake your VET but if you want to keep your assets secure, using hardware wallets is your best bet.
Is it profitable to invest in VeChain now?
VeChain is one of the oldest cryptocurrencies, which is now targeting various markets, keeping its focus mainly on logistics industries and supply chain. It is currently focusing on smart contract functionality and solutions related to the internet of things. The supply chain industry is a million-dollar industry that can benefit from Blockchain technology.
VeChain has already partnered with many huge brands, which makes this project attractive. One of the most significant achievements of VeChain is its projects run with PwC and DNV GL. It is also working in a variety of social services, including the low carbon initiative. With Walmart, it has launched the Walmart China Blockchain Traceability platform.
As blockchain technology is no more about only cryptocurrencies, VeChain has made the technology more mature. As per market analysts' view on VET price prediction, the currency has made substantial progress in many areas, it is worth considering it an investment option. No matter if you are a little skeptical of investing in VeChain, keep an eye on its supply chain related projects. If you are an investor who can take a little risk, then maybe investing in VeChain is a good option.