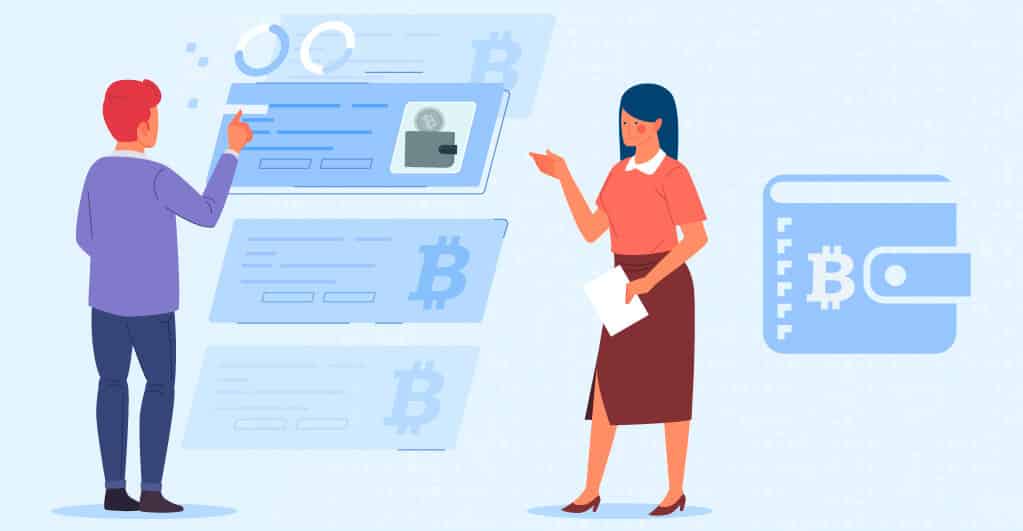 How to Pick The Best Bitcoin Wallet: A Short Guide
Bitcoin is a digital currency that follows the innovative peer-to-peer (P2P) network and is powered by blockchain technology. Each Bitcoin transaction is recorded on a secured public ledger, which eliminates the need for an intermediary. Bitcoins are linked to a wallet id instead of your personal information through blockchain technology; hence Bitcoin transactions are pseudo-anonymous.
What is a Bitcoin Wallet?
Since Bitcoin is not a physical currency, it is stored in Bitcoin wallets. A Bitcoin wallet is a software that holds users' Bitcoin currency in the form of public and private keys. Simply put, a Bitcoin wallet is an interface that allows the users to carry out transactions from their Bitcoin balance through a combination of digital keys.
Types of Bitcoin wallets
1. Hot and Cold wallets:
Hot wallets are connected to the internet and suitable for day to day transactions. On the other hand, cold wallets are well-equipped with security codes and ideal for long-term investment.
2. Hardware wallets
Hardware wallets are hardware devices that can be used via a USB port. They are expensive because they provide a robust security system.
3. Paper wallets
A paper wallet is a printed copy with a QR code and is unhackable and free from virus attacks but is a bit technical to use.
4. Desktop and mobile wallets
Desktop and mobile wallets run through an app and are the most popular wallets but subject to virus attacks and subject to security threats.
5. Web wallet
Web wallets can be accessed through a web browser; these wallets hold the private key that can be used to carry out Bitcoin transactions.
How to Choose the Right Bitcoin Wallet
1. Security
The most important feature of a wallet should be security. Kucoin, a Singapore based digital exchange, was hacked in September 2020; hackers stole an estimated USD 150 million. It is essential to research the exchange's authenticity and security. A multi-signature wallet will be the best bet because transactions can be carried out with two different keys.
2. Methods of payments
Wallets support multiple payment channels- bank transfer, debit card, credit card, PayPal, Gpay, etc. Newbies can opt for wallets that support Fiat transactions. Processing time is another deciding factor, and users can select wallets that offer quick payment options.
3. Private keys
Users must know private keys. Without them, users have no control over their transactions. The private key enables users to take a backup of the wallet.
4. Hierarchical deterministic (HD)
HD is a feature that lets users have access to a new Bitcoin address for every transaction. HD wallet ensures privacy and offers an intuitive interface, and takes the security system a notch higher than other wallets.
5. Open source code
Open-source wallets are peer-reviewed and easy to access; they usually offer a higher degree of transparency.
6. Privacy
Users who prefer anonymous business transactions should choose wallets that have a straightforward email registration process and require no KYC, and will allow you to carry out transactions anonymously.
7. User Interface
Users can choose from various types of wallets like a paper wallet, mobile wallet, hardware wallet, etc., based on their expertise in handling them.
8. Backup
Backing up wallets is essential as it helps store the data in case of hardware/software failures.
The Best Bitcoin wallet
Binance would be the best pick as it has 150 cryptocurrencies, an intuitive user experience, 24/7 customer support, and tools for newbies and professionals.
Final Words
For optimal security, users should try using a combination of hot and cold storage. Keeping all your private keys online and offline can be an underrated risk— think of all the users who lost Bitcoins in the Kucoin and Mt. Gox hacks. Diversifying your storage places is your best bet. Apart from that, Trade with Bitcoin Code to get the maximum profit from Bitcoi trading. It is a most unique and innovative trading platform called by Bitcoin Robots. To know more further you can check out Bitcoin Code Review or the official website.