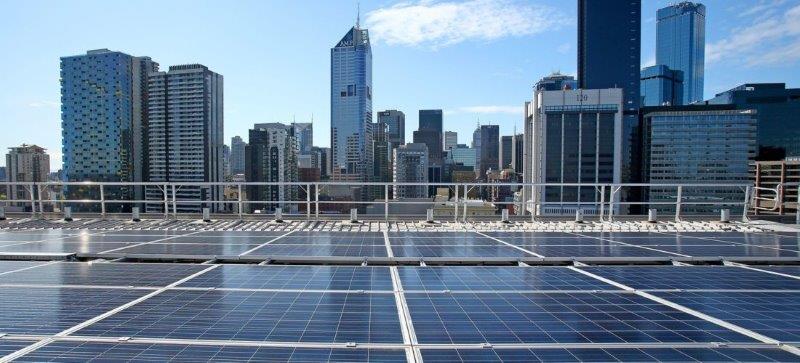 Blockchain Powered Solar Panels
With over two million solar panels installed across Australia, the people are coming up with smart options to sell that extra energy to the neighbor. And one of the lucrative solutions is peer-to-peer (p2p) solar network trading. According to experts, p2p allows consumers to bargain their excess power for profit. One of the plus factors is that there is no middle man, the consumers can make deals on their own terms. And there is transparency. Energy Matters describes p2p solar energy as a logical development in the new economy. It involves person to person dealings similar to AirBnB than an institute to consumer. Now, what about blockchain. What role does blockchain play? You may already be aware that blockchain is a decentralized ledger technology (DLT). As per Renewable Energy World, this new technology enables people to trade energy among themselves. And this will bring about a much needed shift and much greener energy. "This shift will stimulate more renewable energy projects as a whole, forwarding the transition from carbon-emitting electricity generation. Tokenizing renewable energy allows wind, solar and hydro producers to seamlessly connect with investors who are willing to pay upfront for the right to consume renewable energy," says Renewable Energy World.
The Brooklyn Microgrid Project is a great example as it concluded that blockchain can create a local community market for renewable energy. "It allows producers to raise capital by issuing their own energy tokens. The investors can then either consume the energy or resell it when its closer to being produced." It creates a multidimensional platform and a smarter and cleaner grid.
Enosis Fleur Edwards, the director of Australia-based Enosi, says blockchain will bring about a much needed revolution to the energy sector. Edwards stressed that currently, the energy market is complex with many profit seekers and middlemen. "Enosi is working to reverse traditional energy consumption. Instead of relying on energy companies, Enosi hopes to empower communities to purchase sustainable energy from each other, at whatever price they decide," she said. Edwards said now the community will have a choice on where to buy green electricity. Furthermore, the Australian Renewable Energy Agency (ARENA) has kicked off a pilot trial in Melbourne, using blockchain to help businesses and houses to trade and share power with each other. As per various reports, the trial incorporates batteries, 'smart' air conditioning and solar panels to bring about the best value in peer-to-peer energy markets.
According to Energy Matters, more people are becoming prosumers. "They produce their own electricity, sell it and store it using battery technology. This reduces congestion on distribution lines and helps promote the balance of energy." Blockchain has definitely made 'smart' energy a reality. The Renewable Energy World states that energy companies will be able to optimize for the needs of the grid through the smart technology. "Energy companies will capture value from grid operators, who were previously using inefficient means of managing load, like spinning up a peaker plant, and pass that value on to energy users." And the customers will not have to lift a finger! The consumers will definitely be empowered.