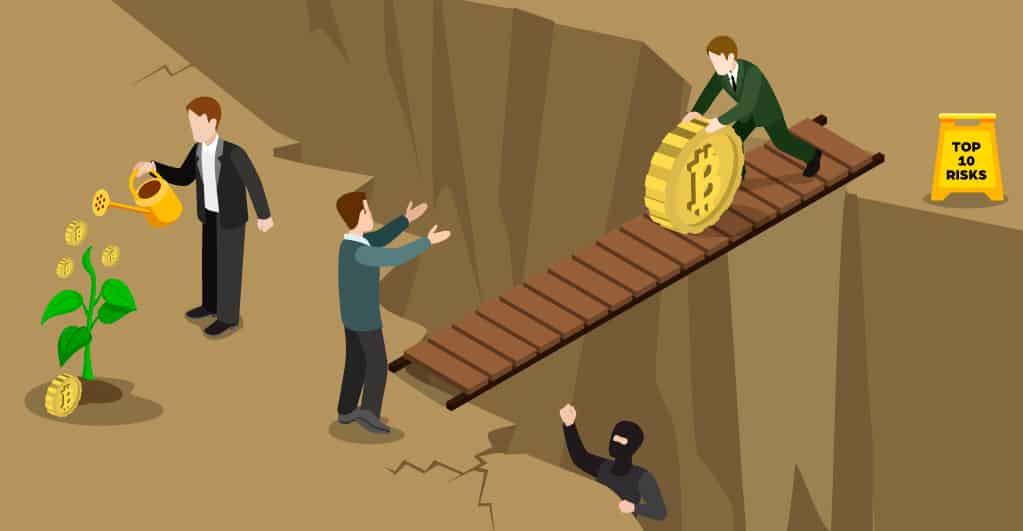 The Top 10 Risks Of Bitcoin Investing
An Overview
The pandemic has wreaked havoc on the economy of almost every country. Even the developed nations are struggling hard to do away with the financial crunch.
Top 10 risks of bitcoin investing and How to avoid getting caught up in them
1. Volatile and Fluctuating Market
If Bitcoin can be described in one word, then that is "erratic." The price of Bitcoin spikes and drops in the blink of an eye, and so the market trend of Bitcoin is always unpredictable. In order to avoid losses, it is recommended to make small investments. Small investments help to yield decent profits over the long term. Study the dynamics of supply and demand of Bitcoin in the market and keep an eye on the business charts to keep track of your investments.
2. Fraud
The Bitcoin market has its fair share of scammers and hackers. Beware of fake Bitcoin exchanges and keep your wallet and account safely guarded with encryption technology. Pay heed to the warnings issued by the Securities Exchange Commission and the Consumer Finance Protection Bureau against potential security threats and suspicious assets. Avoid exchanges and services that make tall claims and run a thorough background check of the assets before making any investment.
3. Cyber-Security Risks Including Malicious Activity
Several Bitcoin investment platforms and trading forums are prone to hacking, cracking, and other malicious attacks that result in the occurrence of heavy losses.
4. Taxation of Digital Currencies
There is hardly any certainty when it comes to the tax treatment for investment in virtual currencies like Bitcoin. However, some countries impose VAT on Bitcoin investment. It is advised to check with a financial lawyer before proceeding with a Bitcoin investment.
5. Little or No Regulation
At present, there are no stringent regulations prevalent in the cryptocurrency market. The market is not subject to governmental control, and as such, there can be no penalties imposed upon any entity in case of financial scams. Cryptocurrency investment is not subject to tax regulations either. However, the governments and banks of the developed countries are making efforts to control trading and investment in crypto assets.
6. Currency or Investment Opportunity
Cryptocurrency is a sound investment opportunity, but it is not as reliable as stocks and other traditional assets. The market witnesses random shifts, and there is hardly any regulation that results in bankruptcy for those investors who invest their life savings in crypto assets.
7. Currency conversion risks
The deposit and withdrawal of fiat currencies are regulated by a hundred financial policies. As such, cryptocurrency investors face complex currency conversion risks while executing business across trading platforms and exchanges. There was an incident in February 2017 when two popular trading forums of China barred withdrawals and margin lending and imposed strict anti-money laundering policies. The impact of the incident manifested in the form of a dramatic reduction in trading volume.
8. Other Risks Related to Trading Platforms and Exchanges
Most of the cryptocurrency trading platforms and online exchanges are unregulated and hence prone to financial scams. Investors who sign up with such phony platforms often face heavy losses due to fraud, security breaches, and sudden business failure. An investor needs to exercise caution and due diligence prior to registration with platforms for trading and investment in cryptocurrencies.
9. Financial Loss
Investment in Bitcoin is often referred to as a Ponzi scheme by most financial experts. A bubble economy has been created with the advent of more and more investors into the cryptocurrency world. When the bubble economy explodes, Bitcoin shall be rendered with no value. At that point, investments will yield no returns, and financial ruin will befall the investors.
10.Technology Reliance
The technological aspect of Bitcoin trading and investment develops at a rapid and uncontrollable pace. Even though most of the investors possess substantial venture capital yet, they still suffer from losses owing to risks posed by technological developments. It is imperative to be well acquainted with technology to keep track of the profitability of assets. Investors who are not tech-savvy fall prey to technological risks and thereby incur losses.
Final Thoughts
There are hundreds of cryptocurrencies in the market, but none can top Bitcoin in terms of market capitalization and profitability. The price of Bitcoin is always profitable despite the fluctuation, and it even facilitates international trading and investment at affordable transaction rates. Investment in Bitcoin is coupled with quite a few risks like the volatility of value, exposure to financial scams, and so on. However, suppose you are planning to invest in Bitcoin. In that case, the Bitcoin Aussie System is a unique and innovative way to invest in Bitcoin that uses an algorithm that auto-trades on behalf of its users. To know more details, you can check Bitcoin Aussie System Review. If you are about to venture into Bitcoin investment, then it is important for you to be aware of the risks of investment.